Robert Rue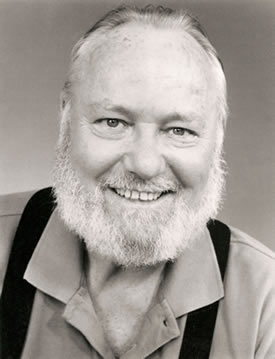 Dr. Robert Rue was an unbound spirit, who worked tirelessly to build communities.  From his beginnings as community school director in the public schools of Flint, Michigan, and Director of Community Education at Olivet College in Michigan, to his later years as President of Mott Community College (MI), Spoon River College (IL) and founding President of Mohegan Community College in Norwich, CT, "Dr. Bob" was instrumental in involving students and administration in the policies and processes of education.  Before leaving his presidency at Gordon College in Barnesville, GA, during the turbulent civil rights movement of the 1960s, Dr. Rue oversaw the successful integration of the campus there.
The educational arena was where his professional career thrived, but Bob Rue was also at home when he could contribute to any worthwhile community venture that involved the arts.  He was actively involved in the transformative development of the Hygienic Art Gallery in New London, CT, and served in leadership roles for numerous artistic organizations, including the Eastern Connecticut Symphony and the East Lyme Arts Council.  Bob was a singer in his early school years and continued his role as entertainer in his later years as Santa Claus.  He delighted children and adults of all ages each Christmas season with his desire to reach out and touch individual lives in the spirit of Christmas.
With his mother, Opal, as the initial force in his life devoted to nursing, Bob Rue developed a strong nursing program at Mohegan in the 1970s.  Since the merging of Mohegan Community College with Thames Valley Technical College in the 1990s, the resulting Three Rivers Community College continues to provide quality nursing education in a state-of-the-art facility on the newer Norwich campus.  The Robert N. Rue Nursing Scholarship was created to recognize and support the efforts of committed individuals who are working to care for people and communities.